Tiffany MacKenzie PGA - Director of Coaching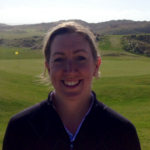 As an amateur Tiffany started her golf at Bowood Golf & Country Club where she was twice Ladies Champion. Tiffany was a County first team player for both Wiltshire and Devon and was awarded Devon County Colours. Tiffany won the Somerset Schools Girls Championship and the England Girls Stableford.
Recruited by Longwood University in Virginia USA as a student athlete, Tiffany spent four years in the University golf team. She won the USA North Eastern Division individual title, was a member of the team which reached the Divisional Championships in Florida and was selected by the NCAA as an All American. In her final year Tiffany was appointed Assistant Coach and graduated with a BA in Theatre - Visual and Performing Arts and a Minor in Sports Coaching.
On her return from America, Tiffany knew she wanted to become a PGA Teaching Professional so joined the Saunton professional team in 2006. Tiffany became a fully Qualified PGA Professional in 2009.
Since being at Saunton Tiffany has furthered her coaching with three years at Millfield School and Preparatory as an Academy Golf Coach (2009 to 2012). Currently Tiffany is a Devon Junior Academy Coach and continues attending many courses at county and PGA level, giving her additional skills to excel within her field.
Tiffany delivers golfers of all abilities an individual experience and endeavours to provide an environment which blends natural ability with technical improvement, ensuring your specific requirements are met, whatever your lifestyle.
Bespoke performance packages are available.
To get in contact with Tiffany regarding coaching and lessons, or for any other reason please email here on tiffany.mackenziepga@gmail.com