John Morgan - Assistant PGA Professional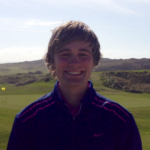 As an amateur John played his golf at Taunton Vale where he went on to represent his county Somerset under the instruction of Martin Keitch and Adrian Bishop, winning his club championship in 2010. John continued his interest in golf reading Sport Science at Swansea University focusing primarily on golf psychology and in particular the benefits of Imagery and pre-shot routines on golfing performance.
After completion of his degree John turned professional at Taunton Vale in 2010. He spent two years of his PGA foundation degree there before moving to Saunton Golf Club in 2012. In this year John went on the achieve 'Year 2 Assistant of the Year' in the South West and third in Britain. John is hoping to be a fully qualified Professional in 2014. As part of this qualification John has achieved status as a level 2 qualified coach and has also completed his exams in custom fitting.
Whilst working at Saunton Golf Club John is currently competing on the South West Region. He has a passion for coaching all ages and is committed to the development of the Junior programme here at Saunton.
To get in contact with John regarding coaching and lessons, or for any other reason please email him on jrmorgan362205@live.com